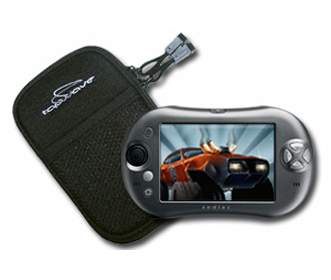 Zodiac stock mage from Tapwave's site
The Tapwave Zodiac was released in October 2003 and was only available for online purchase directly from Tapwave. The prices were $299.99 for the Model 1 with mB of RAM and $399.99 for the Model 2 with 128 mB of RAM. The Model 1 was light grey and the Model 2 was a dark grey/black. Both included an accessory pack that contained Stunt Car Extreme game, Acid Solitaire game, utilities software disc, USB/power cable, earbuds, wrist strap and a flip cover. In early 2004, Tapwave was also shipping a sport case with the system for a limited time.
Tapwave was founded by ex-Palm employees and by employee the technologies they had learned, the Zodiac was developed and runs off of the Palm 5.2.6 OS. The Zodiac was left open source so anyone that was interested in developing their own games was free to do so. The Zodiac also contained a blue tooth capabilities for wireless networking and game playing. Besides the wireless connection, the Zodiac had MP3 playback, video playback (AVI, MPEG 4, and Quicktime). Internally the system had 16 bit color (65,536 colors) 3.8" screen (480x320 resolution), Motorola i.MX1 ARM9 processor, ATI Imageon Graphic Accelerator coupled with a FatHammer X-Forge 3D graphics engine. 6.3 oz. 5.6x3.1x.55 inches outer dimensions
The controls of the Zodiac were analog and the system could be used both vertically and horizontally. There was one SDIO card port and one SD card port for storage. A number of smart media cards could be used and since the Zodiac has a Palm OS, there are thousands of programs available right away. Address book, word processing, calculating, and daily planning are all built in fucntions with the Zodiac.
There are plenty of 1st and 3rd party games that are in the works and 3rd party developers include heavy hitters like Midway, Activision, Sega, Atari, and Commodore.
Comments, questions or concerns
Email Me!
Nothing on this site is for sale
. Unless otherwise noted and linked all photography and scans are © 2001-2007 Adrienne Barr c/o Vidgame.net, Vidgame0. All logos, designs, technologies, characters, etc. owned by their respective copyright or trademark holders. Images must be approved for use on other informational websites.
Images are not to be used in stores, storefronts, online auctions, eBay, websites, magazines, books, etc. without prior written consent
. If you are interested in purchasing images for usage in web or live stores, web or live auctions, eBay, magazines, books or profit websites, please click
here
.