Now There Are No Limits!
David Rosen was such a good man, I wanted to do a report on him for my History of Photo class, but then I realized there probably wasn't much information on him. But here's his story anyway. After he was a soldier in World War II he stayed to live in Japan, the country he was stationed in. He helped to boost Japan's employment rate, sort of. Many Japanese needed photo ids for different purposes, but most photographers charged to much, so many couldn't afford them. David Rosen then started to import 5-minute photo booths from North America to help the lower income families get something they needed for a reasonable price. The only problem was that the pictures from these machines didn't last long, so he had a staff of people behind the scenes developing them so they would stay archival. He continued to help the Japanese leisure business by importing games from North America and even built Japan's first bowling alley. By doing this, he was able to start his own company Rosen Enterprises.
Service Games was a company owned by Marty Bromley, Dick Stewart and Ray LaMaire that specialized in Jukeboxes. It was a company that formed when Nippon Kikai Seizo and Nippon Koraka Bussan merged. Then in 1964 Sega resulted from a merger between Rosen Enterprises and Service Games. The first game they released for export from Japan was Periscope in 1966. An living example of this game can be seen at Cedar Point in Sandusky, OH. In 1969 Sega is sold off to Gulf and Western. In 1984 David Rosen and a partner Isao Okawa buy the company back for $38 million. During those 15 years, Gulf and Western came out with Sega's first home console: the SG 1000 in 1983. Besides the SG 1000, Sega's famous programmer Yu Suzuki also joins in 1983. In 2000, Sega's Chairman Isao Okawa dies and as a last request, Sega will make no more hardware: no developments and halt the hardware already in production. Sega of Americas president Peter Moore (in my opinion) voluntarily takes the last breath from the Dreamcast in North America, canceling all software translations in progress for the Dreamcast and moving them to different systems. As of this day, Sega wants to be known as a software company, making titles for Sony, Nintendo, and Microsoft.
In development in 1995, the Neptune was a system that combined the 32X, Genesis and Sega CD into one unit. The closest we got was the Sega CD which combined the Sega Genesis with the Sega CD.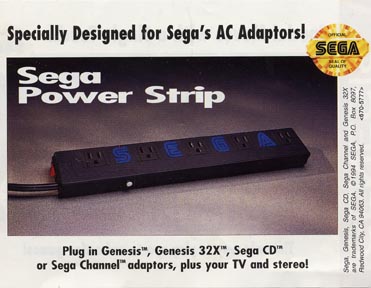 Comments, questions or concerns
Email Me!
Nothing on this site is for sale
. Unless otherwise noted and linked all photography and scans are © 2001-2007 Adrienne Barr c/o Vidgame.net, Vidgame0. All logos, designs, technologies, characters, etc. owned by their respective copyright or trademark holders. Images must be approved for use on other informational websites.
Images are not to be used in stores, storefronts, online auctions, eBay, websites, magazines, books, etc. without prior written consent
. If you are interested in purchasing images for usage in web or live stores, web or live auctions, eBay, magazines, books or profit websites, please click
here
.