Now You're Playing With Power!

In 1890 a man named Fusajiro Yamauchi starts the Marufuku Playing Card Company to manufacture Hanafuda playing cards and collectable Flower cards. In 1951/52 the name of the company was changed to Nintendo Playing Cards Co. and later in the decade strikes up a deal with Disney.

In 1963, Nintendo Playing Cards Co. gets another new name: Nintendo Co., Ltd. Which leads to other endeavors such as a car business and a form of instant food. Gumpei Yokoi was hired in 1965 and was soon working his way to the top after he developed the Ultra Hand. He later was assigned to another project to produce a Laser Toy Gun in 1970s. By 1977 Nintendo had released their first Color Television Game System and hired Shigero Miyamoto. Nintendo releases their first arcade game in 1978 named Othello.


In 1980 Minoru Arakawa opens and heads Nintendo of America. After he took office, he imported the first game from Nintendo to hit North American shores called Radar Scope, the unit was largely a flop with American arcade goers. Arakawa was Nintendo president Yamauchi's son in law and was chosen because of his foreign skills, not because of family relationship. Arakawa would play a vital role in Mario's history. Also in 1980, Yokoi starts production on his Game and Watch library, one that would play an important role in Nintendo. In 1981 Miyamoto comes out with Donkey Kong the arcade game and it was a success worldwide. Originally Miyamoto wanted to call the game Stubborn Gorilla, but then they just went with a synonym: donkey meaning stubborn and kong meaning gorilla. The main character, Jumpman, who was trying to save his girlfriend from an angry ape was later named to Mario, after the landlord Mario Segale who cut Arakawa a break. The landlord owned the space that Nintendo of America used as a warehouse space and he let Arakawa pay late because Arakawa was depending on the success of the newly imported Donkey Kong. Arakawa retired in January 2002.

In the mid 1980s Nintendo released their Advanced Video System which two players could play in a variety of different ways. They could battle it out on two arcade screens OR two players could play the same game simultaneously on two different screens OR two players could play two different games at the same time simultaneously on two different screens. The deal was that the two screens were on one triangular unit. Believe it or not, I remember seeing these at Chuck E Cheese's Pizza when I was little. The Hogan's Alley Version of the game made an appearance in Back to the Future.

Here's a little Mario history. His first name was Jumpman. He was then Mario the carpenter in Donkey Kong Jr. Finally he was Mario the Plumber in the original Mario Brothers game when his brother Luigi was introduced. Bowser is a dragon, and with this said, it makes sense to me now. Seriously though, until this point I thought he was a fire breathing turtle. Or, is he the Super Koopa of them all?


In 1985 Nintendo came out with their first home console in the United States: the Nintendo Entertainment System. It was a conversion of the Famicom. Later in the decade, in 1987, Nintendo starts to produce their free newsletter the Nintendo Fun Club News. After the demand for the newsletter was so high, Nintendo started publishing the bi-monthly magazine Nintendo Power in 1988. The first cover had a clay model of Mario and King Wart, from the recently released Super Mario Brothers 2 game. The first issue was mostly reviews and strategies for the most popular games up until that point. During the course of the Nintendo Power Magazine, Nintendo also started to publish their own strategy guides for popular games. Final Fantasy and Super Mario Brothers 3 were two Nintendo strategy guides that counted as issues. Today, these strategy guides are an option for subscription premiums as well as for purchase.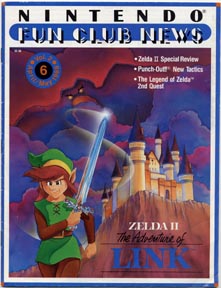 Nintendo Fun Club News and Nintendo Power Issue #1

In 1988 Atari started to manufacture illegal cartridges for the Nintendo Entertainment System under the name Tengen. The Tengen title that caused the greatest stir was Tetris. Nintendo owned the rights to Tetris, while Atari had purchased the right from a company who didn't own them in the first place. Also in 1988, Atari took Nintendo to court for a anti-monopoly suit because Nintendo had a policy for making games. The policy was that if game manufacturers wanted to make games for the Nintendo, they could not make games for any other system. Also factors were price fixing and lockout chips. Nintendo took them back to court in 1990 because of the Tengen label.

Nintendo and Blockbuster Video had two separate court trials that each party won one of. First, Nintendo had taken Blockbuster to court stating that Videogame rentals were taking money away from sales. The court sided with Blockbuster video. Determined to get them, Nintendo took Blockbuster Video back to court on a copyright infringement law. Blockbuster was copying manuals and sticking them with games that had lost their instructions and the court sided with Nintendo on this matter.

One of Nintendo's best 3rd party publishers was Square but this relationship diminished after Nintendo chose to use the cartridge format for their Nintendo 64. Square had published such games as 3-D World Runner and King's (Kind) Knight. Their last game for Nintendo was Super Mario RPG: Legend of the Seven Stars for the SNES. Although Final Fantasy VII was in production before Square left for Sony, as Sony Playstation discs could hold more information than the Nintendo 64 cartridges. As of 2002, Square has decided to return to Nintendo with Final Fantasy Tactics 2 for GBA and a linkable set of games for the GBA and GCN.


Pikachu and Mario with an LCD screen in the Times Square Toys R Us