Game Boy SP (AGS-001)
SP Means Special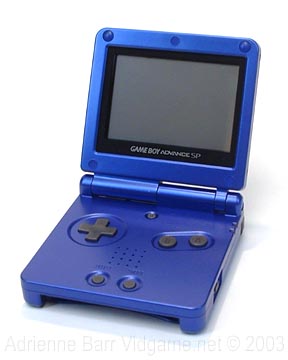 The Gameboy Advance Special (GB SP) was introduced to the United States on March 23, 2003 for a price of $99.99 USD. The first price drop occured in August 2004 when the price for a new system dropped to $79.99. It is more of a revamp to the Game Boy Advance rather than a new console. (Think along the lines of Game Boy > Game Boy Pocket) The GB SP totes a smaller package, flip open design and a side lit screen. Although, this is not the first time the Game Boy has officially gotten a lit screen; the Japanese only Game Boy Pocket Light had a lit screen also. Besides the light, the SP comes with a rechargable battery and does not utilize regular AA or AAA batteries. A fully charged battery can run for 10 hours using the light function and 18 without. The battery takes 3 hours to fully charge from the 'empty' state. When the battery is fully charged, the light on the side of the GB SP will go off while plugged in. Like the GBA, when the battery is running low, the indicator light will turn red. The battery can be recharged about 500 times.
Japan will saw three colors upon release, Metallic Blue, Silver, and Metallic Black. The US is only recieved Cobalt (*cough* purple *cough*) and Platinum on release day. On September 9, 2003 Nintendo is releasing Onyx (black) and Flame (red) in the United States. The GB SP is going to be compatible with nearly all peripherals and games, including the E-Reader, but supposedly not Kirby's Tilt N Tumble. Kirby's Tilt N Tumble ( it does work, but backwards.) However, the E-Reader will not be able to utilize the pass-through port when used with the SP. It does still work when put into the cartridge slot and the GBA/GCN Link attaches to the back of the SP, not on the E-Reader itself. The SP is a little bit too small to have it's own headphone jack, so there are a special pair of headphones that Ninendo is selling for $19.99 USD. If that's a little too rich for your blood, there is also an adapter you may purchase for $9.99 that allows you to use your own existing mini-jack headphones.
2.9" TFT LCD Reflective Display
Up to 32,000 simultaneous colors
32-Bit ARM with embedded memory
Self-Contained LCD screen light
Built-in rechargeable lithium ion battery pack (18 hours play without light, 10 with light)
Folding design
Compatible with Game Boy, Game Boy Color, and Game Boy Advance games.
Closed: 3.25"x3.25"x1"
Limited Edition SP Models
Lime Green SP: Target Special Edition, holiday 2003 and packaged with Donkey Kong Country
Gold SP: Toys R Us Special Edition, holiday 2003 and packaged with Super Mario Advance 4: Super Mario Brothers 3
White SP: Packaged with Metroid: Zero Mission during Holiday 2004
Platinum/Onyx SP: Onyx top and Platinum bottom. You call this a LE system? Blah.
Spice/Lime SP: Like the Platinum/Onyx SP but with a Spice/Lime color scheme
Classic NES SP: Platinum SP with vinyl stickers to make it look like a regular Nintendo.
Tattoo SP: Platinum SP with tribal markings on the top
Who Are You SP: Onyx SP with 'Who Are You' tagged in Platinum on the top
Torchic SP: Spice colored SP with sillhouette of the Torchic Pokemon (only available at the Pokemon Center)
Kyogre SP: Cobalt colored SP with sillhouette of the Kyogre Pokemon (only available at the Pokemon Center)
Groudon SP: Flame colored SP with sillhouette of the Groudon Pokemon (only available at the Pokemon Center)
Sponge Bob Square Pants: Yellow SP with the loveable cartoon sponge motif painted on it, complete with eyes. (Only Available at TRU)
Pikachu SP : Yellow SP with Pikachu's face on the cover. Japanese version as well as a TRU only edition as of 2006.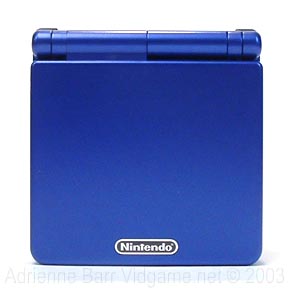 Back of the GB SP:

1. R Trigger
2. Handstrap hole
3. Rechargeable/Headphone adapter jack
4. Link Port
5. Handstrap hole
6. L Trigger

Bottom of SP showing the Cartridge slot

Left side of the SP showing:

1. L Trigger
2. Volume Control slider

Right side of the SP showing:

1. On/Off Switch
2. Battery Life/On Indicator Light
3. Low Battery Indicator Light
4. R Trigger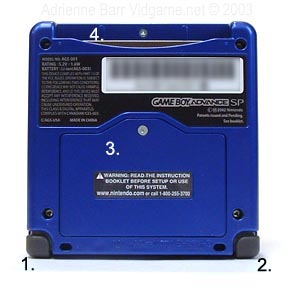 Bottom of the GB SP, showing:
1. L Trigger
2. R Trigger
3. Removable Battery Cover
4. Cartridge Port
To see the different software available for this system, please click here.
To see the different peripherals available for this sytem, please click here.
Picture of complete SP kit: system, power adapter, box, instructions, caution card, registration card, subscription card.

GB SP Power Adapter AGS-002

Input: AC 120V 60Hz 4W
Output: DC 5.2V 320mA

With the round tab pointed up:
- Left Contact / Right Contract +

The Official SP headphones. You may only find these on the Nintendo online store for now.

Headphone jack for the SP.

Rechargeable battery. AGS-003

18 hours play time without the light on
10 hours play time with the light one

| | | | |
| --- | --- | --- | --- |
| Press | Color | Press | Color |
| UP | BROWN | LEFT | BLUE |
| UP + A | RED | LEFT + A | DARK BLUE |
| UP + B | DARK BROWN | LEFT + B | GRAY |
| DOWN | PASTEL MIX | RIGHT | GREEN |
| DOWN + A | ORANGE | RIGHT + A | DARK GREEN |
| DOWN + B | YELLOW | RIGHT + B | REVERSE |

See this chart? This is all you need to know about playing the mono chrome games in a different color. Use the codes at left as the Game Boy title screen comes up.

A paper mock up of the GB SP. When you opened it, the Game Boy Advanced jingle would play and then a short note in a male voice about the new advantages of the SP.

Plastic model of the SP.
Comments, questions or concerns
Email Me!
Nothing on this site is for sale
. Unless otherwise noted and linked all photography and scans are © 2001-2007 Adrienne Barr c/o Vidgame.net, Vidgame0. All logos, designs, technologies, characters, etc. owned by their respective copyright or trademark holders. Images must be approved for use on other informational websites.
Images are not to be used in stores, storefronts, online auctions, eBay, websites, magazines, books, etc. without prior written consent
. If you are interested in purchasing images for usage in web or live stores, web or live auctions, eBay, magazines, books or profit websites, please click
here
.