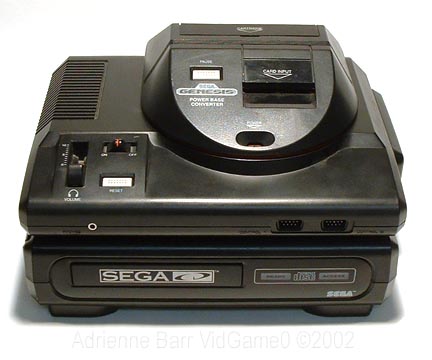 Sega Genesis (1601)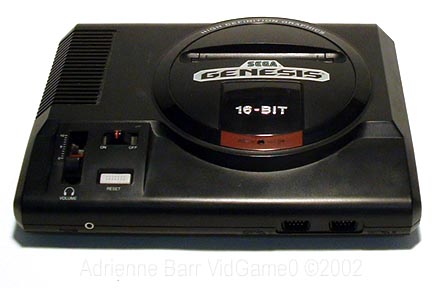 In August 1989 Sega came out with the Sega Genesis, a 16 bit console. It was released for $249.99 USD and came packed with the new Altered Beast (it was previously released on the Sega Master System) game cartridge, two controllers, a RF switch, and an AC adapter. The game that came with the system was changed to Sonic the Hedgehog in 1991 when the blue fuzz ball was introduced. The system came with 8 bit stereo synthesized sound with 14dB noise ratio. It had input for headphones and a volume control switch. As stated before, the Sega Genesis had true 16 bit graphics but it also had a palette of 512 colors with 64 displayable onscreen at once with 80 sprites maximum. Sega had an exclusive deal with Electronic Arts, so the Sega Genesis got most of their new games, namely titles like John Madden Football, NBA Live, and NHL Hockey. When Acclaim came out with Mortal Kombat, Sega did not restrict their use of blood in the game, which made the Genesis version superior to the Super Nintendo's. In the early 1990's Sega criticized Nintendo by comparing their superior Sega products to the older Nintendo products that were still on the market. Out of all the Sega Genesis games that were out, only one utilized the SVP chip and that was Virtua Racing. The Sega Genesis was released first in Japan in 1987 as the Mega Drive.
CPU: Motorola 68000 at 7.68MHz + Z80 @ 4MHz (sound CPU)

RAM: 64kb

Screen Resolution: 320x224

Max Colors on screen: 61 (512 available)

Max Sprites: 80, 20 per scanline

Sound Channel: 6 FM, 3 PSG, 1 PCM
To see the peripherals made for this system click here.
To see the different software available for this system, please click here.
Look at the upgrades available for the system, click here and here and here.
Back of the Sega Genesis:

1. EXT.
2. Channel 3/4
3. RF Output
4. AV Output
5. Power Output

Close up of the Genesis 1's special characteristics:

1. Volume Control
2. On/Off Switch
3. Reset Button
4. Headphone Jack

Controller for the Sega Genesis

Controller tip for the Sega Genesis.

RF switch

Sega Part # 1603

Sample Power supply for the Sega Genesis. MK-1602

Input: 120V 60Hz 17W
Output: 9V DC 1.2A

+ @ -