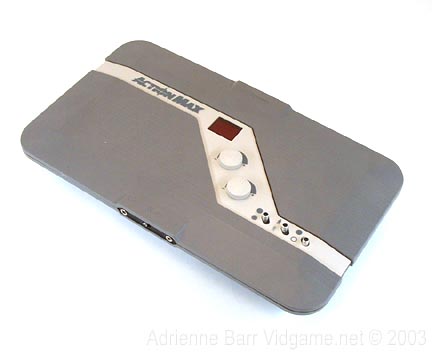 The Action Max was created in 1987 by Worlds of Wonder toys. It used VHS tapes as the 'games'. Since the system did not have a VHS player, a VCR was required for this piece of equipment to function. Four 'C' batteries or an AC adapter was utilized. Only 5 games were created (one unconfirmed):
.38 Ambush Alley
Blue Thunder
Hydrosub: 2021
The Rescue of Pops Ghostly
Sonic Fury
Fright Night (unconfirmed)
Sonic Fury was the Action Max pack in game video. However, since VHS tapes are so non-interactive this brings up the question of how much of a 'system' this is. When you shot the light gun, the system would super impose sprites on the screen depending on where you shot, but the VHS tape would continue playing as if nothing happened. I suppose it comparable to the Pirates of the Carribean ride at Disneyland. While going in a set path, you can throw anything at the animatronics you want, but they still won't leap out to get you. Games were set up in three modes: Standard, Reflex, and Limited Amunition.
If the the lightgun has not been fired within five minutes, the Action Max would sound to let the user know.