Magnavox Odyssey 2 (BK-7600-GY02)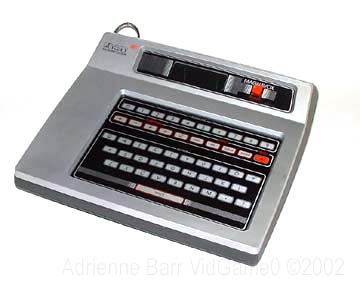 Non-Hardwired version of the Odyssey 2.
In 1978 Magnavox came out with their second major system, the Odyssey 2, which was totally different than th various Odyssey PONG systems. It was a computer with BASIC programming, but many people regarded it as a home videogame console. It cost $129.99-$199.99 USD at it's debut and came with two controllers, RF switch with TV box, power supply, and the Speedway/Spinout/Cryptologic game cartridge. The system at first contained hard wired controllers and later detachable controllers. The Odyssey always had a membrane keyboard which turned out to be a bad idea. It was easily ripped and was very hard to tell when you were actually typing. By 1981 the Odyssey 2 had dropped the Magnavox label and stated going by the parent company North American Philips Consumer Electronics Corp. The individual cartridges for the system ran from $19.99 USD for the regular carts to $49.99 USD for the Master Strategy Series. The most notorius of the regular cartridges was the K.C. Munchkin game that caused Atari to take Magnavox to court. It was deemed too similar to the Pac Man cartridge that Atari had rights to and K.C. Munchkin had to be taken off the market. The Mastery Strategy Series that sold for $49.99 USD was a cartridge that came with a board game, both of which could be played simultaneously. The popular one was Quest for the Rings.
The non-hardwired version of the Odyssey 2 had a shiny plastic keyboard cover and different artwork that comprised the logo on the left side of the system.
Wanna know how to hook your system up to today's TVs? Click here.
The Odyssey 2 Voice (AC7605GY04 143) module lets your system "speak" to you. Magnavox recommends that the consumer leave the voice module in the Odyssey 2 unit, to avoid unnessicary wear to the system. Non-voice enhanced games are not damaged by using the voice unit, but the volume must be turned all the way down to avoid any undesired feedback. The far right image shows the split power supply unit for the Odyssey 2 unit and the Voice module. 1. is for the Odyssey 2 console 2. is for the Voice. PSU Model: AC 9084-BK02 Input: 117V AC 60Hz 17W Output: 12V AC 830mA
Complete Quest for the Rings: Box, Board Game, Instruction Booklet, Keyboard Overlay, Game Pieces, Cartridge, Plastic Tray.

Complete Conquest of the World: Box, Game Board, Plastic Money, Instruction Booklet, Game Pieces, Cartridge, Plastic Tray.

Sample of a complete Odyssey 2 game: box, instructions, and cartridge.

Sample controller tip for the Magnavox Odyssey 2

Sample Joystick

Sample power cord for the Odyssey 2. Model 9063-BK03

Output: 11.5VAC 400mA
Input: 115VAC 60Hz 12W

RF switch. The cord that was attached to the back of the system plugged into this box and then to the TV