Bandai Tamagotchi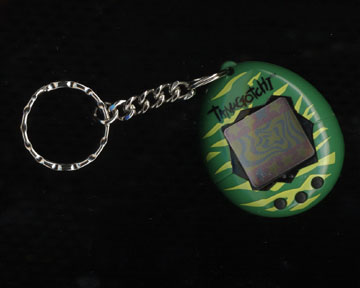 Although not considered a 'system' of sorts, the Tamagotchi virtual pet by Bandai is a notable object in Videogame history. It was created in Japan around 1996. It was very popular with all age groups, both male and female. Within a year or so, a similar trend with these 'virtual pets' was created amongst teenage girls in the United States. There were many different styles and graphically different keychains, and a mostly unpopular Game Boy game was also released. Within the toy's virtual world, you, the owner, had to feed, play with, and clean up after a martian whom traveled to your planet and hatched from an egg. This concept led to many other 'virtual pet toys released in the United States from Japan. The most notable are Poochi and even the Pokemon Game Boy franchise from Nintendo must pay respect to this little keychain. Another variation is the Chao, which can be downloaded onto a VMU from the Sega Dreamcast and Sonic Adventure. With Chao, you had to feed, fight other Chaos, and there was a game exactly like the Memory card game that your could play with Chao. You can find Tamagotchi's now for about $4.99 on clearance in most larger family stores. When they debuted in the US, however, I believe they were about $16.99-$19.99 USD. The LCD game came with 2 LR44 batteries. There are also very many imitation 'virtual pet' toys such as Nintendo's Pocket Pikachu 1 & 2.
I do not have this system for sale, nor do I know who sells this system anymore. Please stop emailing me regarding this item.
Functions of the screen are as follows: Feed, Light (sleep), Duck (clean up), Health Meter, Play, Medicine, Attention.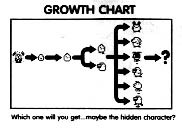 Tamagotchi Growth Chart