INTV (Mattel) Intellivision III (#3504, 3035 RH)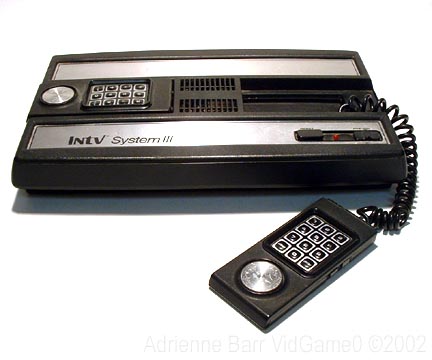 As the Intellivision was going out of style in the early 1980's a Mattel vice President stepped in and bought the label. He name the new company Intellivision, Inc. and later INTV. He announced the reintroduction at the 1983 Consumer Electronics Show, but it took two years to go on sale. By 1985 until 1990 the Intellivision III or Super Pro System, as it was sometimes called, went for sale mostly through mail order and stores like Kiddie City and Toys R Us for $59.99 USD (plus $4.00 SH through mailorder). From 1990 onward, the INTV III system was sold through mailorder only. In 1988 INTV reintroduced the keyboard component. Licences for some games were not renewed so game previously released like NHL Hockey were now just known as Hockey. The INTV III ends the Intellivision production line with 125 games.
The power cord was hardwired into the system, the same goes for the controllers. (115V AC 60 Hz 18W).
The Blue Sky Rangers (developers on Intellivision software)are making emulation software for MAC and PC named Intellivision Lives. You can find it here.
To see the different software available for this system, please click here.
To see how you can hook up your system to today's televisions, please click here.
Bottom/Back of INTV 3:

1. RF Output
2. Hardwired Power Plug
3. Channel 3/4 Switch

Right Side of INTV 3:

Cartridge Slot
| | |
| --- | --- |
| | INTV 3 Hardwired Controller |
| | Intellivoice peripheral allowed for 'talking' games. 3330 |
| | Diagram from the Intellivoice |