Image © 2002 Intellivision Lives Website0
Intellivision Master Module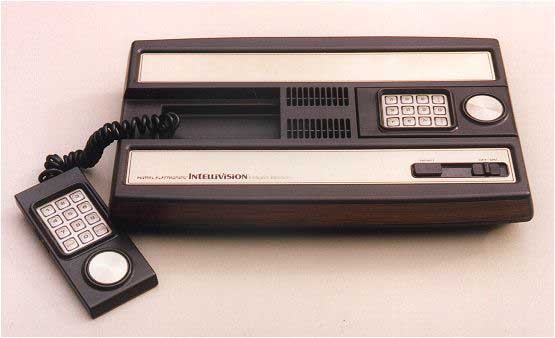 (unknown source)
In 1979 Fresno, California was a lucky place to be: they were the test market for the "Intelligent Television," otherwise known as the Intellivision (INTV) or Master Component. Made by Mattel Electronics group, the Intellivision was released nationwide in the United States in 1980 for a whopping price of $274.99. The pack in cartridge was Las Vegas Black Jack and Poker. Also at the release time, twelve additional cardridges were made for purchase. The carts cost $25-$30 USD apiece and came with two keypad overlays each for use on the Intellivision's controllers, something new for it's time. The controllers of the Intellivision came attached to the system and could be stored within small trenches on the top of the INTV They featured 12 numeric keys and a 16 position control knob. The only problem with these controllers is that when one went bad, the system was rendered useless. The "Intelligent Television" name was given in anticipation for the keyboard unit that was "in the works." After delays and delays of it's release, it finally came out in a small test groups spread throughout the United States. It retailed for $500-$600 USD and cradled the Intellivision in it's base. It was supposed to be a type of computer that the family could gather around: banking, games, etc., but it just wasn't the right time yet. It claimed to have better graphics that the Atari VCS, the INTV boasted 16 on screen colors and 3 channel sound and this led to Mattel leading 15% of the industry in the very early 80's. Mattel had set out to get the biggest sports licenses and franchises they could and that is what they did. It was considered the adult system of it's time, as it was for 'serious' sports games: it had the most realistic human movements of the time and Major League Baseball was the leader of the pack. INTV had similarities with the Atari VCS because they offered a sort of online play capabilities. Playcable, as they called it, offered 20 games 24/7 for $4.95 per month. The Blue Sky Rangers programmers group was created from the process of 'blue skying' brainstorming they did. It was the programmers giving themselves a name. They are still around, please click here, even though Intellivision's production ended in 1990, after a number of years selling their products soley through mailorder. One interesting design note is that the cartridge slot was
In 1983, Mattel came with another breakthrough technology: the Intellivoice peripheral. It utilized the Orator voice synthesis chip that could 'speak'. There were only about six cartridges made and each of them rendered crude speech: to tell you when a bomb was comming, etc. The cartridges were: Space Spartans, B-17 Bomber, Tron Solar Sailor, Bomb Squard, and World Series MLB. They were noticably different than the regular cartridges as they had gold labels. The overall design of the Intellivoice was to match the Master Module and contained a volume control. Normal games could be used in the Intellivoice, but would not see any marked improvement.
The power cord was hardwired into the system. (115V AC 60 Hz 18W).
To see how you can hook up your system to today's televisions, please click here.
To see the different software available for this system, please click here.
The Intellivision Voice Synthesis Module. 3330

Diagram for Intellivision Voice Modulator

Intellivision 1 unit shown with Playcable.

(unknown source)

Intellivision 1 unit shown with Keyboard Component (shown with Intellivision)

(unknown source)
Comments, questions or concerns
Email Me!
Nothing on this site is for sale
. Unless otherwise noted and linked all photography and scans are © 2001-2007 Adrienne Barr c/o Vidgame.net, Vidgame0. All logos, designs, technologies, characters, etc. owned by their respective copyright or trademark holders. Images must be approved for use on other informational websites.
Images are not to be used in stores, storefronts, online auctions, eBay, websites, magazines, books, etc. without prior written consent
. If you are interested in purchasing images for usage in web or live stores, web or live auctions, eBay, magazines, books or profit websites, please click
here
.