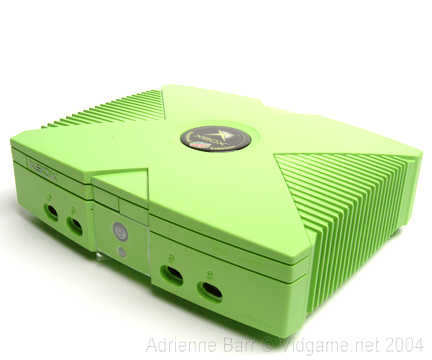 During March 2004-August 2004 Pepsi teamed up with various companies to create a merchandise promotion program with their Mt. Dew label. The promotion was dubbed DewU (University) and for videogame sponsorship, they chose the XBox. There were 5 system packages with a game bundled in with each. In april there was the standard color XBox bundled with NBA Inside Drive 2004, May brought a special edition green (as tenatively shown above) bundled with Amped 2 (to be continued June-August).
Merchandise was "purchased" with points from bottle caps, promotions, fountain cups, 12- and 24-packs. Each bottle cap and fountain cup was 1 point, 12-packs were 3, 24-packs were 6 and there were rumored to be 100 point bonuses from things like radio promotions. Regular, diet, Code Red and LiveWire flavors all had points.
Besides the system bundles, the promotion also sponsored Mad Catz XBox Wireless controllers and Xbox Live V.3 kits.