Microsoft XBox (X0061-001, Product ID 521)
The dream of Bill Gates entering the home console race was announced in 1999 and finally realized on November 15, 2001 when the Microsoft XBox released in the United States. The system debuted at $299.99 USD and boasted broad-band capabilities right out of the box and a DVD drive. Of the next-gen systems XBox was the fastest and graphically superior one of them all. The XBox also had packed into it a 8G hard drive, nearly eliminating the need for pricey memory cards and a nVIDIA XGPU chip for graphics @250 MHz. The only problems in the first batch of Xboxes was that due to the use of a Windows 2000 Kernel based OS, the XBox was plagued with problems similar to those of a PC: skipping and freezing. Regardless, I haven't had problems with any systems of with the manufacture date after December 2001. The other problems: weight and controller design of the original. Not only is the system heavy (nearly 9lbs.), so was the first controller. The controller is an uncomfortable shape, similar in design to some Microsoft Sidewinders. Even with small hands, the button arrangement is too close together. Microsoft tried to alleviate this a few months later by releasing their Controller S design. It was smaller and the black and white buttons were moved to a different spot; apparently to be in an easier spot to use when playing sports games.
As stated before, the system comes with broadband and DVD capabilities. So what does this mean? Well, you can play online as of November 2002 with a cable modem or faster connection. If you use the standard 56K phone connection, you unfortunately won't be playing on Xbox Live. As for the DVD drive, everyone is SOL. A DVD Playback Kit that retails for $29.99 USD is required for DVD usage. During the 2002 summer, Microsoft was offering a $30 USD rebate for those who bought the Playback kit and the Xbox system at the same time between the months of July and August. You may record CDs into the hard drive and create your own soundtrack to listen to while playing certain games. Another plus for parents is that they can set a parental block (similar to those found in cable networks) to limit the use of games with ratings such as M, T, etc. and also DVDs that are watched.
In order to play DVDs on the XBox, a DVD Playback Kit (which retails for $29.99 USD) is required. In order to boost the sales of the DVD Playback Kits, Microsoft developed a rebate program
After immediate poor sales in both Europe and Japan, Microsoft drops the price of the X-Box in Europe by about $100 USD. For all those who purchased a system on release day, they received a voucher for 2 free games and a free controller. In the United States, Microsoft planned to announce a price drop during the E3 2002 that the X-Box would go from $299.99 USD to $199.99 USD. Sony caught upon this and dropped the price of their Playstation 2 and PS One on May 14, 2002 which made Microsoft follow suit and drop theirs about a week before planned. In September on 2002 for every customer that purchased a Xbox and a DVD Playback Kit on the same transaction, they would receive a rebate slip for $29.99 in order to boost sales of the DVD aspect of the system.
Sega Combo Pack: $199.99 USD comes with the Xbox system, controller S and the Sega GT 2002/Jet Set Radio Future game.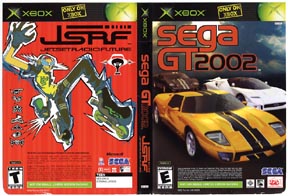 Controller S Pack: $179.99 USD comes with controller S. (replaced standard controller in later versions)
Holiday 2003 Pack: $179.99 comes with Tetris Worlds and Star Wars: Clone Wars full versions, a Controller S and a 2 Month free trial to Xbox Live.
Front of the Xbox

Back of the Xbox:

1. Power Output
2. AV Output
3. Broadband/System Link Port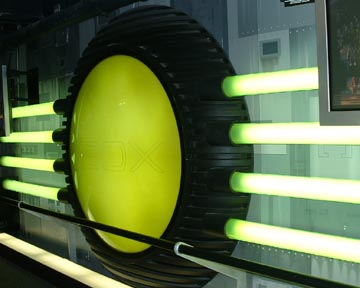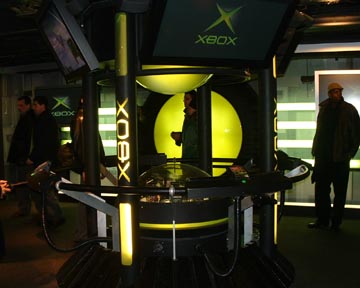 Xbox display at the Toys R Us in Times Square, NYC. The lighting display at left, and the four-player special kiosk
on the right.
Controller tip of the X Box controller

Xbox Regular Controller aka 'Duke'. Coming Soon!

Microsoft Controller S. Released in March of 2002 for $39.99 USD. It was the controller that was originally released with the XBox in Japan in February of 2002.

X08-69873

Top of X Box controller: memory card slots similar to the Sega Dreamcast controller.

Special edition in the United States, the Japanese S controller with special green medallion.

X09-22238-01

X Box 'breakaway' cord. The cord releases without dragging the system with it if pressure is applied. The system boasts 4 controller ports.

X Box 'breakaway' cord. The cord releases without dragging the system with it if pressure is applied. The system boasts 4 controller ports.

Blaster by Mad Catz. Officially licensed light gun for use with House of the Dead 3. Holds memory card in the front handle.



Silent Scope Light Rifle. $49.99 USD by Pelican. The butt, scope, and extension could be taken off to use the gun in shotgun mode.

The gun is very jerky when used, but it can be 'toned down' a bit with a controller extension cable.

DVD Movie Playback kit required for watching DVD movies on the Xbox.

Remote: X08-50202
Receiver: X08-25387

(X09-04017-03) Xbox Live

XBox Live Communicator: Plugs into the memory card slot of the controller and controls the output (voice type) and input (muting, volume) of the headphones and microphone for the XBox Live! service.

X08-01420

Steel Battalion 40 Button Controller. Read more here. Required for play with the Steel Battalion game. This also came with a 3 aluminum floor pedal set.

Memory card. There's a 50/50 chance you'll need one. For taking game saves to a friend's house. Or if your system busts, you buy a new system and you don't want to loose 5 hours of play on Oddworld....8Mb. X08-25319

Sample game: box (comes in 'Slimer' green), DVD disc, and instructions.

Xbox game case. Holds 24 discs. By ALS.

Power plug for X Box. Input: 100V-127V~2.1A 50/60 Hz.

In 2004 Microsoft had a recall on their powercords. Due to some manufacturing defects, there were systems that caught on fire due to faulty regulation. The powercords reissued to individuals who input their serial number into Microsofts website.

There were two types of replacement cables, I am not sure if what Microsoft sent was dependant on what S/N you put in.

Another type of replacement cable.

Sample AV Cables for X Box

Microsoft's own X-Box magazine. $7.99 gets you the new issue and a demo disc.

Demo discs 1-21 were sent in paper sleeves. A heavy paper sleeve was also packed in with the magazine so you could cut it out and put it into a DVD case.

Starting with issue 22 demos were packed in thin plastic DVD cases. (Although some still came in paper sleeves; subsequent demos were included in plastic cases)

Xbox Store Demo Disc (Version 1.2 sleeve, 1.1 disc)

Xbox Tecmo Store Demo. Ninja Gaiden and Dead or Alive X-Treme Beach Volleyball videos and Dead or Alive 3 bonus material.

Tom Clancy's Ghost Recon: Island Thunder demo disc given away with GR: IT pre-orders.
Comments, questions or concerns
Email Me!
Nothing on this site is for sale
. Unless otherwise noted and linked all photography and scans are © 2001-2007 Adrienne Barr c/o Vidgame.net, Vidgame0. All logos, designs, technologies, characters, etc. owned by their respective copyright or trademark holders. Images must be approved for use on other informational websites.
Images are not to be used in stores, storefronts, online auctions, eBay, websites, magazines, books, etc. without prior written consent
. If you are interested in purchasing images for usage in web or live stores, web or live auctions, eBay, magazines, books or profit websites, please click
here
.