Sony PS One (SCPH-100 or 101 or 101)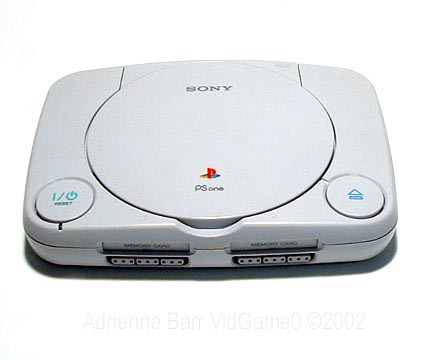 The PS One was introduced the same month as the Playstation 2. In September 2000, the PS One debuted for $99.99 USD. In that price the customer recieved the new colored Dual Shock controller,a demo disc, the new AC adapter, and a set of AV cables. Also released for the system was a battery back for on the go, a 5" LCD screen ($129.99 USD), and the new-colored memory cards ($14.99 USD). In January of 2002 the PS One was repackaged with the screen for $199.99 USD. On May 14, 2002 Sony dropped the price of the system to $49.99 USD and the price of the bundle (system with screen) to $149.99 USD. The screen by itself stayed at $129.99 USD. Since it was a redesign of the original, there were some features that were missing most notably the serial port that allowed two Playstations to connect together to play on separate TVs. The PS One was about 2/3 the size of the original Playstation and featured load times that were miliseconds faster too. The major selling point of the new Playstation was the extreme portability that the system was to offer. With the screen and battery pack, the system could be taken on camping trips, planes, and other places where electricity was easily accessable. For car trips, Sony also released the DC adapter kit for $29.99 USD.
CPU: Embedded R3000 @ 33MHz + geometry coprocessor (GTE) 32 Bit RISC

RAM: 2MB main memory, 1MB video memory

Graphics Processor: GPU-180,000 texture mapped, Gouraud-shaped polygons per second

Screen Resolution 256x224 up to 640x480

Max Colors on screen: 16.7 million (24-bit color)

360,000 Polygons per second

24 ADPCM Sound Channel

512 KB Sound Memory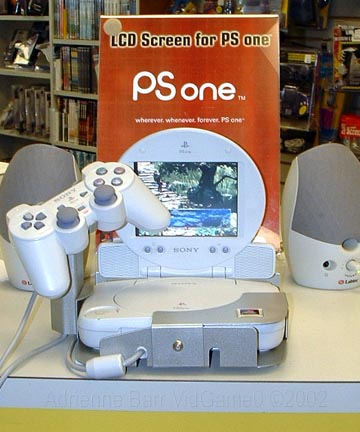 PS One Counter top Kiosk. Screen, Controller, System and Security device. Speakers were NOT part of the setup.
To see the peripherals made for this system click here.
Back of the PS One:

1. AV Output
2. Power Output

The new controller packed in to match the system. SCPH-110

Back of the controller showing the R and L buttons. SCPH-110

PS One Carry case. SPS-935

PS One Carry Case
PS One screen attached to the system, closed.

The 5" LCD screen made by Sony for the PS One. $129.99 USD. SCPH-131. Power Supply SCPH-121

PS One screen attached to the system, open.

Front of the PS One Screen:

1. Screws that mount the screen to the system
2. Power Input
3. AV Input


Back of the PS One Screen:

1. Screws that mount the screen to the system
2. Mini Jack In
3. Headphones out
4. AV Output
5. Power Output

AV Connection cable. SCPH-180OU

Connects video camera with a mini-AV plug to the PS One screen.

The Car Adapter/DC kit. $29.99~$39.99 USD. SCPH-170

SCPH-113 - @ +
Input AC 120V ~0.37A 60Hz
Output DC 7.5 =2.0A

SCPH-121 - @ + (for use with screen)
Input AC 120V ~0.46A 60Hz
Output DC 7.5V =3.0A