PSX
(DESR-5000 & DESR-7000)
When the PSX released in Japan in December 2003, there were two models released. DESR-5000 contained a 160GB drive and was released for 79,800 ¥ while the DESR-7000 was released for 99,800 ¥ with a 250GB drive. The system plays DVDs, audio CDs, Playstation software, and Playstation 2 software. Of course, since this is still an NTSC-J device still, only NTSC-J software and DVDs will work on it. The PSX is also compatible with some (but is not guaranteed) Playstation and Playstation 2 accessories. The PSX could also accept accessories via the USB port and some Memory sticks. One of the notable features of the PSX is that it has the ability to record shows from television, similar to a TiVo device or VCR. Two more features include being broadband ready (for PS2 gaming functions) and the ability to recieve an Analog TV signal with the internal tuner. The system came with the manual, a remote control, AV cables, antenna cable, and the power cord upon release. The controller (DESR-10) was not included in the initial package and was available separately for 3,500 ¥.
Because of the placement of the memory cards slots to the controller slots, the Playstation 2 Multitap was incompatible. The memory card slots were contained on the front of the unit (behind a flip down panel), while the controller ports were in the back.
The PSX was originally supposed to be the centerpiece all in one unit to a home entertainment system. However, shortly before the PSX recieved it's release in December 2003 in Japan, several of the key features were cut. These features include MP3 playback, CD-R/DVD-R/DVD-RW recording and playback (support is still included and can be updated later via an online server), and some playback from certain cameras. The dubbing speed of the DVD drive was reduced from 24x to 12x.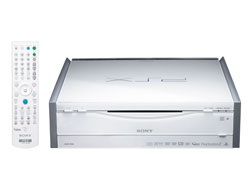 Images on this page are from the Japanese Sony Site
Comments, questions or concerns
Email Me!
Nothing on this site is for sale
. Unless otherwise noted and linked all photography and scans are © 2001-2007 Adrienne Barr c/o Vidgame.net, Vidgame0. All logos, designs, technologies, characters, etc. owned by their respective copyright or trademark holders. Images must be approved for use on other informational websites.
Images are not to be used in stores, storefronts, online auctions, eBay, websites, magazines, books, etc. without prior written consent
. If you are interested in purchasing images for usage in web or live stores, web or live auctions, eBay, magazines, books or profit websites, please click
here
.