Atari 7800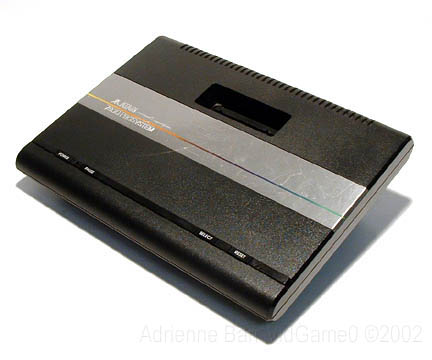 The Atari 7800 Pro System was released in 1986 in hopes to combat with the Nintendo Entertainment System, after Atari declined Nintendo's offer of making the NES. The system was a enhanced 2600 that played a new set of games too. While being backwards compatible, the 7800 did not play three (supposedly) of the 2600 games: Asteroids Deluxe, Joust, and Ms. Pac Man. For the price you paid for the system you would get the Pole Position II cartridge, two joysticks, a RF switch, and that damned blue tip power supply.
The system was originally labeled the 3800 and codenamed the Maria. There were three models of the 7800 released: one with a expansion bay, one with the expansion bay outline (the bay had been filled in/removed), and the last is questionable (actually I don't know what it is).
Back of Atari 7800:

1. Power Output
2. Channel 3/4 Switch
3. RF Output

Front Detail of Atari 7800 (left to right):

Power
Pause
Select
Reset
Atari 2600 games were also compatible with the 7800. Please click here to view cosmetic styles.
To see how you can hook up your system to today's televisions, please click here.
Sample controller tip

Sample silver label game cartridge.

One of the most elusive power supplies on the planet. The blue tip AC adapter. Damn the blue tip, damn it. Part No. CO24471-001

Input 120V 60Hz 16W
Output 9V 1A

- left right +