Atari Lynx (PAG-0201)
The Lynx idea came from a company called Epyx who had thought of it in 1987, codenaming their system 'Handy'. Atari purchased the idea, the Atari Lynx debuted in 1989 for a price of $149.99 USD. Originally pack ins include California Games cartridge, carrying case, comlynx cable, and an AC adapter. As the price dropped, the system only came with 6 AA batteries. It was the first true color handheld console with a palette of 4,096 colors (16 simultaneous) on a 3.5" screen. It ran at 16MHz and contained an 8 way joypad. The Lynx suffers the same fate as the Atari Jaguar: it just doesn't know what bit it wants to be. It can run at 8 bit or 16 bit, depending on which side you go with. Graphically it is 16, but internal CPU says that it's 8 bit. By pressing [option 2 + pause] simultaneously, you could flip the screen to make the system easier to use for left handed persons. Certain games call for a vertical screen, and the Lynx could accommodate them by rotating 90 degrees. In the first Lynx system the games were loaded and 'hidden' in the handle and the batteries were located in the back of the unit. The Lynx took 6 AA batteries that lasted for four hours average and the unit would shut off if not used to five minutes to conserve power. The 120 V AC adapter would cause the unit to shut off after one hour. One more function was the soft reset which could be activated by pushing [option 1 + pause] simultaneously to reset the game. The Lynx only had mono sound. The Lynx's library of games consisted mostly of Atari arcade games and games released for the Atari 7800. Up to 18 Lynx's could be networked, although games only supported up to 4.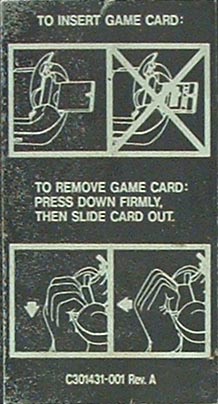 Bottom of the Atari Lynx shows the brightness adjustment knob.

Top of the Atari Lynx shows:

1. Power Output
2. Comlynx
3. Headphone Jack
4. Volume adjustment knob

Left grip doubles as the hidden cartridge storage.

Atari Lynx Car Adapter. Will hook two Lynx's up to a single DC power supply. 12 VDC 10.5 VDC, 0.8A. PAG-3300

Atari Lynx Comlynx Cable. Joins 2 Atari Lynx units together for two player games, plus has an additional female jack for more Comlynx and additional Lynx to be hooked up. PAG-3200

Atari Lynx Portable Battery Pack. Takes 6 D size batteries. PAG-3325

Left to right: Back of the battery pack, front of the battery pack (with shoulder strap), the open battery pack. You have to unscrew the back and pull down to open.

From the packaging (irony...): The Lynx Battery Pack, which uses six big D-size batteries, is the perfect portable backup system to the AA batteries used in your Lynx Video Game.

Back of the Atari Lynx shows the battery bay, warning label and cartridge slot (closed).

Case that fit the Lynx and a number of games, instructions, and other accessories.

Complete Lynx game including box, game, warranty card, and instructions/poster.

9V DC 3.6W
Comments, questions or concerns
Email Me!
Nothing on this site is for sale
. Unless otherwise noted and linked all photography and scans are © 2001-2007 Adrienne Barr c/o Vidgame.net, Vidgame0. All logos, designs, technologies, characters, etc. owned by their respective copyright or trademark holders. Images must be approved for use on other informational websites.
Images are not to be used in stores, storefronts, online auctions, eBay, websites, magazines, books, etc. without prior written consent
. If you are interested in purchasing images for usage in web or live stores, web or live auctions, eBay, magazines, books or profit websites, please click
here
.