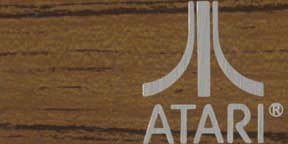 Atari 2600 4 Switch (CX 2600 A)
The Atari Video Computer System (VCS) was released in October of 1977 with a price tag of $199.99 USD and with about nine extra games for additional purchase. For the price of $199.99 you got: a Combat cartridge, two joysticks, the Paddle controller (or Tennis controllers, reminiscent of PONG. Paddle was the official Atari name), a power cord, and TV RF modular. The project name of the VCS was the Stella, named after the chip the Atari manufactured themselves in the image of the MOS Technology's 6502 Microprocessor. In about 1982, the VCS had started to be called the 2600. Of the many variations of the 2600 made, two of the most notable differences are the amount of switches found on the interface. The first and rarest of the wood grain modules, dubbed the Heavy Sixer, contains six switches and is noticeably heavier in weight when compared to it's successor the 4-switch module. Either way, the switches contained on both are On/Off, Color/Black and White, Game Select, and Rest. The difficulty setting was on the back of the unit. The Game Select retains the most interesting feature: it let one select between the different variations of the game all contained on one cartridge. One cart could have up to 112 variations. Other pack in variations of cartridges were the Pac Man cartridge and the Centipede cartridge.
Back of the Atari 2600:

1. Channel 2/3
2. Player Right
3. Difficulty A/B
4. Power Output
5. Difficulty A/B
6. Player Left

Top close up (left to right):

On/Off Switch
Color/BW
Cartridge Slot
Game Select
Game Reset
Cartridges ran anywhere from $16.99 to $39.99 USD for Atari brand and about $3 more for an Activision brand cartridge. Atari was the first system to receive quality arcade games like Space Invaders or Defender. The most disappointing port was the Pac Man cartridge, as it was almost nothing like it's arcade image. This 'defective' cartridge reportedly filled the land fill in New Mexico along with copies of ET and a few other titles.
The VCS also allowed for 'online' play. The Master Module that retailed for $49.99 USD, allowed players to download games through the phone line for a hook up fee of $15 USD and 10 cents per game OR $1.00 per hour.
The Atari 2600 Test Unit provided retailers with a way to test customers units and provide answers to their problems.
Wanna know how to hook your system up to today's TVs? Click here.
To see the peripherals made for this system click here.
To see the different software available for this system, please click here.
Atari 2600 Joystick

Sample of joystick tip

Sample power tip for the 2600.

Input 110-130V AC60Hz 17W
Output 9v 500mA

CO16353
CO16353
CO10472